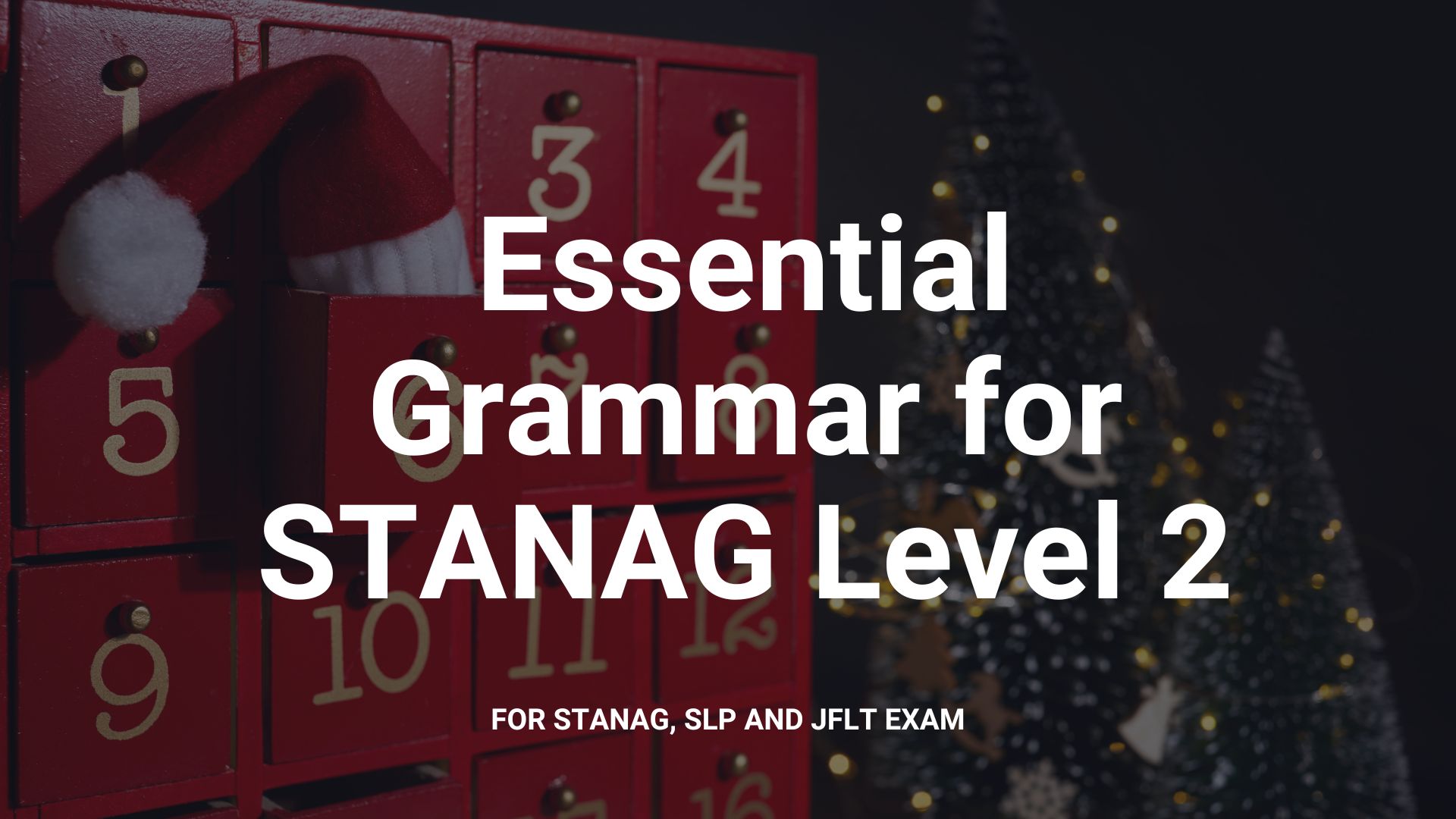 Essential Grammar for Level 2 STANAG 6001 / SLP / JFLT
Posted by

Categories

BLOG

Date

November 30, 2022
This is a FREE mini grammar course in the form of an Advent Calendar. It was carried out in December 2021 by adding one new video every day counting down days to Christmas 2021.
It consists of 24 short grammar lessons (only 5-10-minute long) which focus on Stanag 6001 Level 2 grammar that you should revise and know like the back of your hand.
My idea of teaching grammar is to SIMPLIFY things instead of overwhelming you with information.
I focus on the CONTEXT in which you could use a particular grammar structure, especially in the military context.
CLICK HERE TO WATCH ALL THE MINICOURSE VIDEOS
The topics that are included in this mini grammar revision course are:
Present Simple
Present Continuous
Present Perfect
Present Perfect Continuous
Prepositions of time
Prepositions of place
Comparatives & Superlatives
Past Simple
Past Continuous
Past Perfect
Past Perfect Continuous
Used to, be used to, get used to
Adjective suffixes -ed & -ing
As or like?
Articles
Future tenses and forms
Modal verbs
Asking questions
Gerund & Infinitive
Countable and uncountable nouns
Passive voice
I recommend doing the course in December to feel the Christmas spirit, but if it happens to be a different time of the year – who cares . Get yourself some Christmas vibe in the middle of summer.
Live participants reported that it gave them a lot of clarity when it comes to many grammar aspects and I hope you have the same experience with it!
Enjoy!