It's the first E-book on the market dedicated to Italian service members who are going to take the JFLT exam. It's in the PDF format, which you can easily print if you like to highlight the most important things.
Whether you are studying on your own or with a teacher, this E-book will help you prepare more effectively for the upcoming test and know what to pay attention to. I've poured my 6-year expertise in it and you can tell.
It's a great guide both for JFLT teachers and for JFLT students.
It's perfect for Levels 2, 2+, 3 and 3+.
It includes all 4 language skills but prioritizes productive skills: Speaking (the second biggest section!), Writing (the biggest one), Reading and Listening.
After having worked with dozens of Italian students and preparing them for JFLT exams, I decided to create a study material that 100% fits their needs. My students were also the first one to receive and review it – they co-created it with their feedback.
The JFLT exam is significantly different from the STANAG 6001 exam in other countries, as students in Italy take a multilevel test – ALL LEVELS in one test.
That's why they also deserve their own JFLT-focused study manual.
What is it?
50 exam-style recordings with multiple choice questions that focus on LEVEL 3 topics.
Do you struggle with listening OR need some exam-style short listening tasks to practice for the upcoming exam?
Are you aiming at LEVEL 3?
Do you want to be sure that you are listening to the type of content that is related to the NATO Stanag 6001 / SLP and JFLT topics?
If you answered 3 x YES, the Listening Booster is for you.
I know the reality. Both students and teachers, we all are in the process of a constant search for useful materials to practice exam-style listening. 
Many countries limit access to STANAG / SLP / JFLT materials and as a result I have received dozens of emails from people who are desperately looking for mock exams or at least exam-style tasks. 
I've heard you and I decided to do something about it. This is how this practice material was born!
Have you ever felt that you know grammar rules and quite a lot of vocabulary but somehow… you are not able to put it all IN PRACTICE in life situations and demonstrate it on the exam?
Are you confused when it comes to using expressions in a FORMAL vs. INFORMAL context?
Do you end up TRANSLATING the expressions from your native language as you don't know their EQUIVALENTS in English?


Hey, I got your back

Functional language is the language we use to perform various 'functions' in specific situations, such as inviting, giving advice, comparing, speculating or disagreeing, to name a few.

It allows you to COMMUNICATE EFFECTIVELY in different situations (buying a ticket, putting forward suggestions in a meeting, describing circumstances of a range accident to your superior or complaining in a restaurant). Do they sound like exam tasks in your role plays, formal letters or reports? That's because they are. 🙂

Functional language offers students the link to the real word by sounding more natural, but also directly targets exam English (e.g. how to politely disagree with someone).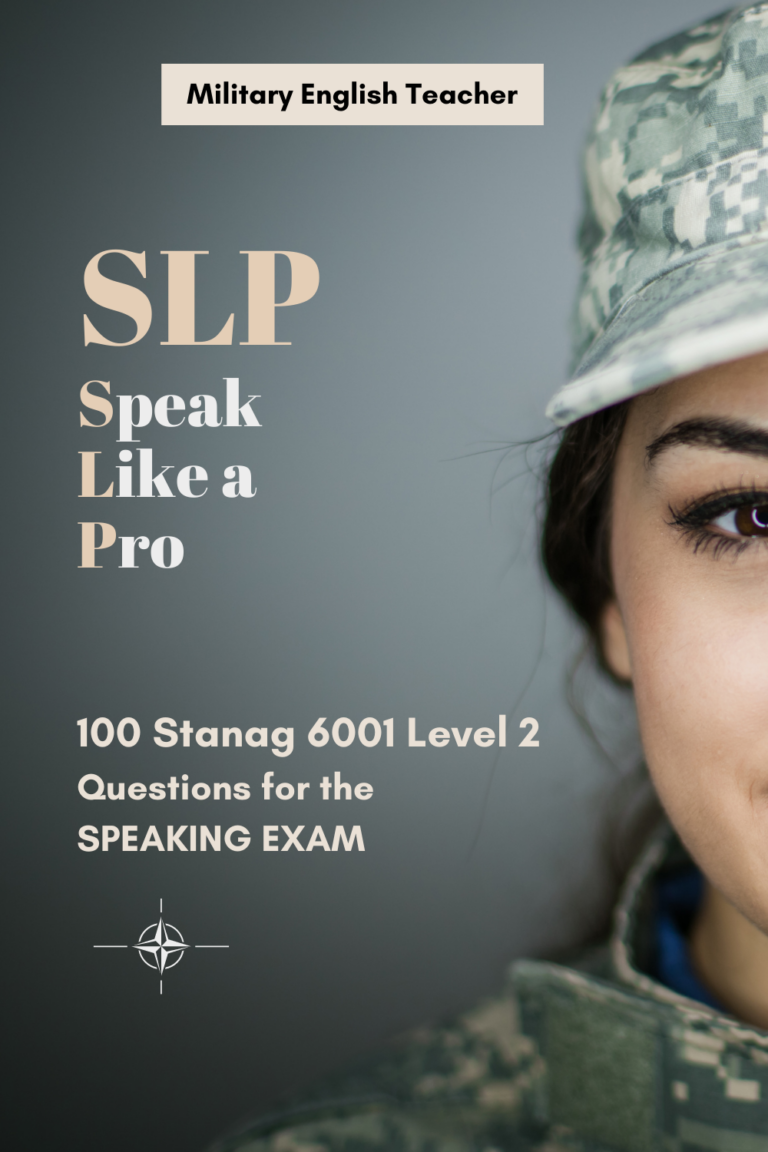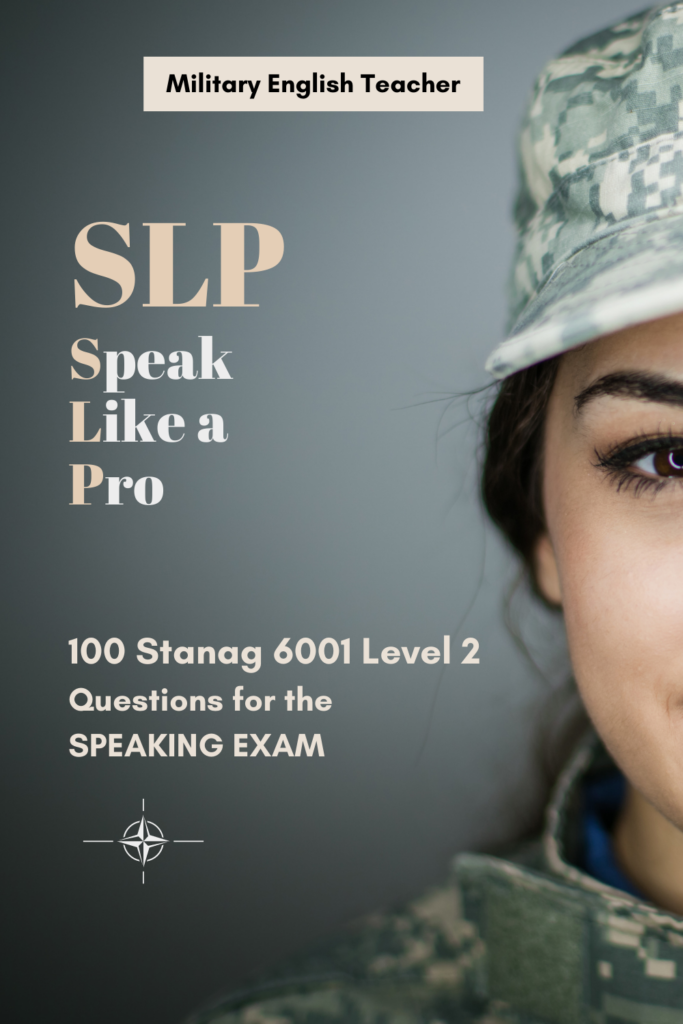 100 Stanag Level 2 Questions for the Speaking Exam
Are you self-studying for the SLP2, Stanag Level 2 or JFLT and need a ready-made list of questions that you might hear during the speaking part of the exam?
This e-book is divided into 20 categories and each of them includes 5 questions (e.g. Your military career, Important people in your life, Your work and workplace or Entertainment).
It will allow you to PREPARE EFFECTIVELY by anticipating questions and preparing your own answers in advance and as a result – boost your exam performance.
Important: The e-book contains questions ONLY, not answers.
Level 2 focuses on three main pillars: narrations (telling stories), descriptions and instructions.
It also covers questions related to your past, present and future.